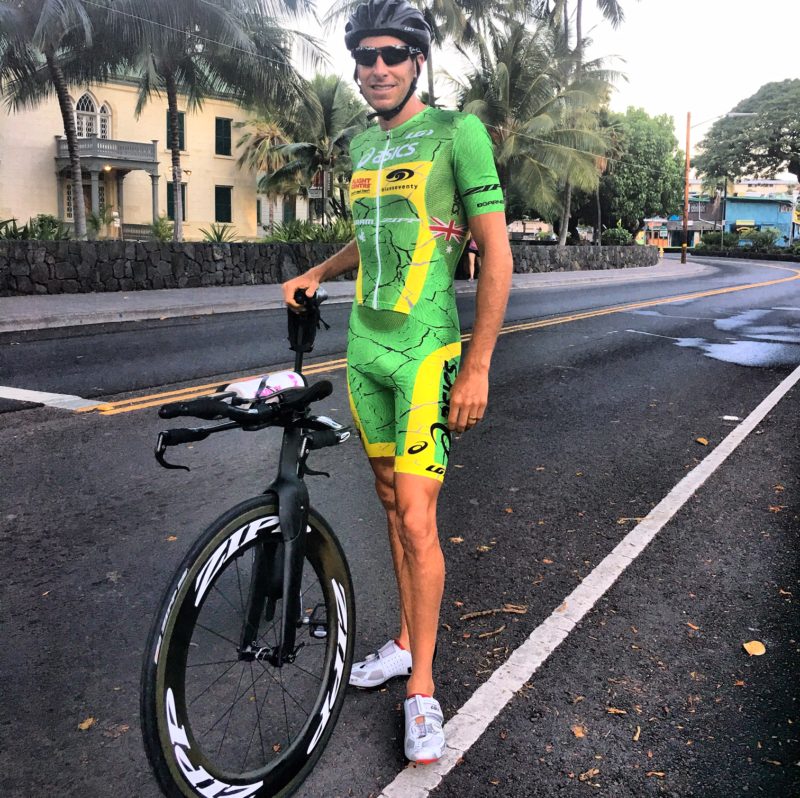 I had in my mind since Cairns that I wanted to tick every box in preparation for the World Champs this year, and that meant going to Kona and doing a training camp with my race gear. Everything was different to previous years and I wanted to test it all. The list is too long to go into details, and most of those details are the things I hadn't even considered being a factor before heading to Kona for testing, so needless to say I am extremely happy with my decision to make the trip and it has been very worthwhile.
Everything is different in Hawaii. The heat makes your heart rate higher, the sweat makes everything slippery, the sun makes you suffer physically, the wind makes you suffer mentally, the hydration levels required are through the roof, the hills are bigger than I remembered, and the memories of the pain and disappointment of previous years had to be addressed. I experienced it all out there in 12 days, and am heading home with a stronger foundation physically and mentally to build upon in the next 6 weeks of training.
Kona is also a very relaxing place outside of race week. Despite the summer heat (which feels about the same as October during the middle of the day but hotter earlier in the day) it did at times feel like a holiday, because I had Jaimie there with me. We swam in the warm water (lightly warmer than October) often, just cruising, or training, or saving a turtle from rope cutting off its' flipper. It was magic everyday, a highlight was swimming across the bay to the Captain Cook memorial and back again with a couple of other friends.
Riding was tough, in a good hot way, and I am pleased I rode the 170km to Hawi and back 3 times. and really got to know the course a lot better. Because although racing it many times it is just a blur in my memory. Now I have good memories of riding the toughest sections of the course, good habits of drinking enough even when the wind blows and you need to hold on tight and stay aero, and those recent experiences will make visualising and enforcing the habits that much more powerful in training.
Running was hot! Even early runs were tough, and I only did 2 runs at pace, the rest of the running was just to get km's in the legs and focus on dealing with the heat, and trying to deflect those thoughts about it. If you tell yourself its hot, too hot, then it will feel even hotter. I believe the acclimatising benefits are mostly mental. Knowing how to deal with the heat on race day is in your control.
On our last full day we joined the locals for the August Peaman biathlon. 500m swim, 5km run. I headed out for an easy ride first with several 30 second sprints, a last chance to train the muscles before the flight without getting too fatigued, and then enjoyed the little race. It was a great opportunity to practice swimming in my Blueseventy swimskin with my new Louis Garneau one piece rolled down underneath, then stripping the swimskin and putting on my sleeved one piece under "race" conditions. I will test this again, but all went really well and it's another little detail I feel I have tried and tested in Kona.
My diet is still proving to be a key to my improved health. I've stuck to keeping free of dairy, meat with feet, grains, and almost anything else processed. I've just boarded the flight back to Brisbane from Honolulu with an apple, nuts, sliced capsicum, and water. I've already eaten a green salad Jaim packed, and another of quinoa with beans and roast beetroot, and an apple. I started the morning early with a green smoothie of whatever we had leftover in the apartment – kale, celery, cucumber, ginger, apple, flaxseeds and chia seeds, then a small break while packing of a fried eggs with spinach and the same quinoa mix as above. This is my standard daily food, and I don't stray much beyond the ingredients I've mentioned above. There's a few other "superfoods" that I add in post training, and I have fish a couple of times a week (more while in Kona as it's so fresh and delicious), but by keeping to similar foods each day, and natural raw ingredients without those possible inflammatory ingredients I have cut out, it seems to be the most beneficial for my body…who'd have thought it?! LOL.
I was so happy to have Jaimie to be able to come away with me, and we can't thank our friends enough for babysitting our two pups and house whilst we were away. Having Jaim there was the best company one could hope for and I couldn't have done it without her, and I'm not just saying that because she prepared food for me more often than I did 🙂 I don't generally choose to travel for training, I like being at home with my home comforts, or should I say the comfort of being at home? But Jaim loves to travel and explore new places, as do I when I have her to do it with. So many experiences over the last two weeks I would either not have had, or not enjoyed as much, had she not been there with me. I am incredibly lucky to have had this opportunity to holiday and train with my gorgeous wife, and from the lows I've had in the last few years, this trip is off the charts in terms of energising my spirit and finding peace and love within triathlon.
Time will tell if this trip will pay off for race day and if I'll make the money back, but I'd like to think that is has been priceless, and I certainly don't feel added pressure, just added confidence, clarity, focus, and happiness. And hopefully for Jaim the time training in the heat and wind will make 70.3 worlds more enjoyable against the competition in her age group. With all the big items taken care of, and no last minute changes or decisions regarding race gear, it is a huge load off my mind, and something I would not have achieved without Jaimie's help, and without the pressure of having to get it all sorted for this trip two months before the race, rather than last minute deliveries 2 days before the race. My gear is all sorted, now it's time to focus on getting my body and mind ready too.