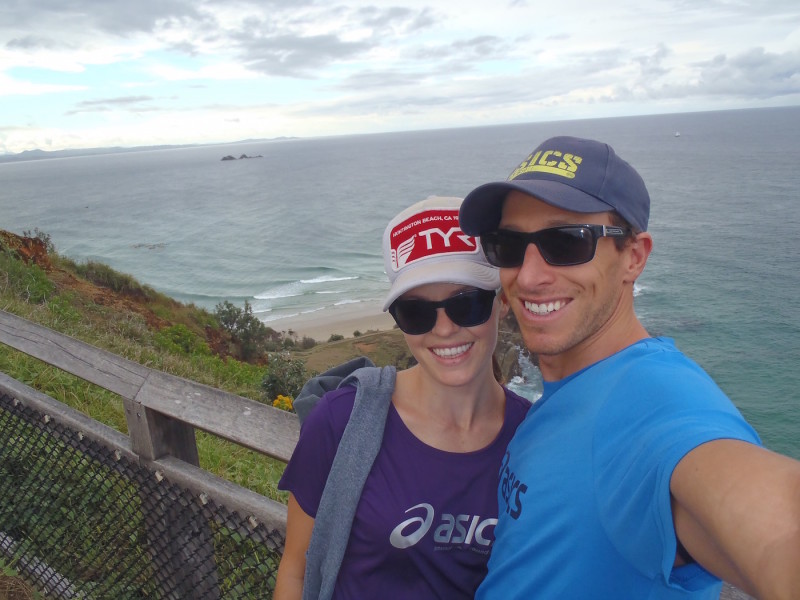 Why wait for an interviewer to ask the juicy questions? I'm ready to bare all, prompted by my need to share my knowledge, experience, and myself.
As you may have noticed in Part 1, I enjoy trying to teach people how to get the most from yourself, whether through improving technique, changing your mental approach, or any other tips I can share. But I am far from perfect. As much as I tell people "this is how I do it, just do it like this", everyone is different. But for those who are like me, but get told they are wrong and try to be like the others, now is your time to say to yourself "relax, be happy, this is the right way for me, this is who I am". I am who I am. And I'm not perfect. Constructive criticism is my favourite term. I love to hear it, and I love to give it.
So where am I going with this? Ummm….that's right I was going to talk about my result in Kona and what it means to me. Firstly it means Jaimie can take a day off work once in a while and the mortgage is ok J. Secondly it means I have to lift my work off the course up to the level of my on course results. I'm an athlete for 2 reasons. One – my ability for organising and data entry is a fail so an office job is out of the question. Two – my ability to know where my body is and what the muscles are doing is top of the class. I was asked today why I can run the fastest off the bike, and that was my answer (and yes, everything else you can think of helps too).
But my lack of organising skills is now becoming a problem. With success comes responsibility ("with great power, comes great responsibility" from Spiderman the Movie), and I'm not good at it. I think it might be time to employ a PR firm. Any offers? I need to be able to run competitions, mail prizes, make videos, write blogs, contact magazines, and everything else this technological age requires while incorporating my sponsors and fans and give everyone something. That is a big part of the job for a professional athlete, and although I love parts of it, I can't do it all. I'm not perfect.
I owe part of my success to a good friend who was previously someone that advised me and then became my manager last year. He is incredibly handsome and wise (he also seems to have access to edit my website). He's not a yes man and we disagree on plenty of things but I believe more and more we come out with the best outcome. He has single-handedly got together my sponsors for this year – he doesn't just manage me, he manages the entire Formula 1 team that is team Pete Jacobs. It is this formation of people and companies that got me to the Kona podium. Being able to concentrate on training and the race, knowing he had the team of supporters/sponsors organised was an unprecedented experience. It took a huge weight off my mind, so I was happy. That's when I race best. But now the pressure has risen again. I basically just got a huge promotion at work, more money, but more pressure, both external and internal. We've spoken about it and how I need to handle that moving forward. It is something that is part of "the business" and as he reminds me, I need to be aware of that along with train, eat, sleep, race, repeat.
But back to Kona and the 2011 Ford Ironman World Championship. My mind was more at ease in Kona than ever before because I had full confident in my gear and I had the full confidence of those who supplied the gear. A big difference this year was I had a solid nutrition plan, tried and tested and more planned and thought out than ever before thanks to the brains behind Shotz Nutrition. Here is a guy that will ring and speak to an age grouper who has questions just the same as he rings and speaks to me about my plan for Kona. The same guy, Darryl, had Chris McCormack, fresh off his win in Kona last year listening intently to every word and asking questions at the BPM-Sport training camp in Sydney.
My plan was a few gels every hour, along with bottles of Shotz Salt tabs with an extra gel in each. We had planned for the inevitable – missing special needs on the bike – sorry but the volunteers out there must not get much training and direction because I rarely get my bag at Hawi. So when the inevitable happened, I was prepared with a concentrated bottle of Salt tablets, and plenty of gels. They were packed like sardines into the XLAB stem bag, into my back pocket and even my tri short legs.  Being prepared was the difference this year. Both in the weeks and days leading up to and during the race I was ready early.
And as we enter 2012, with my sights set on winning the World Championships, my sponsors are raising the bar with me. Boardman, the bike brand by legendary cyclist Chris Boardman will get us together for some wind tunnel testing in 2012, It will be my first time in a wind tunnel, my first time focusing on my bike with a world record setting cyclist guiding me. And as I climb the triathlon global ladder, there will be plenty more firsts in 2012 I'm sure. And I do hope in the race results too. 🙂
I'm currently up in Byron Bay, after just a day at home between a holiday/race with Jaimie on Hamilton Island for the sprint tri and ocean swim. It was one of the best places we have ever been or raced and didn't want to leave (as you can see by photos on my facebook page). So now I'm in Byron and Jaimie arrives tonight, and for bout 36hours we get to relive our Honeymoon at the incredible Byron at Byron Resort as guests of the Movember celebrity luncheon (no I haven't grown a moustache, my excuse is I had a November photo shoot). And a few days after we get home, I head to Busselton to work with the video/commentary/VIP crew at Ironman Western Australia. I look forward to seeing many of you there.
So the "job promotion" of being more in demand and wanted is actually very nice. It does mean more travel, but I'm not complaining about the destinations! Now please excuse me, I have to get back to editing a video of some amazing Hawaii footage for the Movember at Byron at Byron appearance.
Thank you everyone for your support, kind words and encouragement, and I look forward to seeing you at a race soon.
Have some fun over Christmas.
PJ